Curriculum, teaching aids, online resources -- they abound for the Home Schooling family. Budgets are usually tight, making each purchase count. Home School Reviews come from our Shiloh Home School, as we check out some of the resources available to home schooling families, give detailed, comprehensive descriptions of the product, and
our honest opinions about the quality, based upon the price.
Product:
Hands of a Child, Let's Measure It Curriclum
Grade:
K - 3rd
Price:
Normally $12, but currently $5
Age of Child Reviewing
: 5 3/4 1st grade
Lapbooks have always intrigued me but I haven't done much work with them.
After doing
Hands of a Child, Let's Measure It Curriculum
, I'm sold and can see them being a part of our school years.
However, they would not be our full curriculum, but rather a supplement to what is our curriculum.
Cons:
~ I found it difficult to track down the reading material recommended to help teach the lesson. Our library, as awesome as it is, did not have everything, or if it did, it seemed to be checked out, even in the summertime! Sometimes I could order from another library, but frankly, by the time I got to that point, it was too much work. Not because I'm lazy, but because my time is limited.
~ Miraclegirl and I enjoy textbooks in hand, and this did not allow for that.
~ This was still a bit over my Girl's head, despite it being designated for her age range. For example: "Standard unit of measure" and it's definition just did not even register for her when we went over it. Some concepts could be demonstrated, such as inches in a foot, feet in a yard, but then, when we got to feet in a mile, she was lost.
~ If used as curriculum, several lapbooks would have to be purchased in one school year to make up for a full curriculum set, something that I can get with an actual textbook and teacher manual.
Pros:
~ The scope of the subject is comprehensive. We did the
Let's Measure It Curriculum
and our different units we put into the lapbook were thorough in what they covered. From types of scales to units of measurement, to tracking the outdoor temperature for two weeks on a chart, to a height chart, to questions to ask when measuring, there really wasn't anything missing on the subject, with this lapbook.
~ It's not just one lapbook format. Everything was in a different layout. We did mini-books, charts, petal, and flap books. I loved that. So did Miraclegirl.
~ It's a great way to discuss a lesson while doing the hands-on work of putting the lapbook together. We're all about hands-on activities to reinforce a lesson!
~ Despite some of this being over Miraclegirl's head, I'd still recommend it. Because in my mind, there is no sense waiting til they can fully understand a concept in order to present it. Just introducing it, even at a young age, sets the stage of information to be put in place, for when more abstract thought regarding that information, can be processed.
~ These lapbooks can be ordered in a variety of formats. From project packs that you can get in the mail, already prepped and ready to be assembled, to how I did, which was download the PDF and print out the pages,
Hands of a Child
accommodates all the ways a teaching mom might want to receive this product.
I'm giving this a
5 rating
as a supplement, and a
4 rating
as curriculum -- for the personal preference reasons I mentioned.
Did others agree with me on those ratings? You can find out here, as well as see reviews for the other (many)
Hands of a Child
lapbooks reviewed.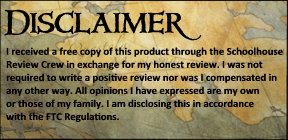 This review was made possible by:
Hands of a Child
and