About Home School Reviews




Curriculum, teaching aids, online resources -- they abound for the Home Schooling family. Budgets are usually tight, making each purchase count. Home School Reviews come from our Shiloh Home School, as we check out some of the resources available to home schooling families, give detailed, comprehensive descriptions of the product, and

our honest opinions about the quality, based upon the price.

Product:
Prescripts Cursive Letters and Coloring
Price: $11.99
We are not a full
Classical Conversations
home school, but aspects of the philosophy and teaching aids are a part of our education. The most recent CC aid to join our bookshelves was the
Prescripts Cursive Letters and Coloring
notebook.
Miraclegirl wasn't thrilled to have to do some cursive now that school is done, but she was willing to try it out for me to write about it for a few weeks. Observing her, I didn't see much difference on the letter pages from our go-to curriculum for cursive. She followed the example with her fingers, traced some samples, then wrote on her own.
What
was
different, and what
I
appreciated, was the trace-and-color pictures every other page. These seemed to contain shapes and lines similar to the letters she was working on and this is a great asset in continual development of the fine motor skills required for cursive writing.
What
Miraclegirl
appreciated was a picture to color every other page. It didn't matter to her it was a replica of a famous piece of art. She was just happy to deviate from cursive and go back to something more fun than schoolwork.
I'm torn on our cursive curriculum now because I really liked the art and drawing lessons combined with the cursive. It moves at a bit of a slower pace however, than what we are used to, with our basic curriculum having her write words and sentences in the same notebook that she learned lessons in.
In the end, to accomplish all I wanted to writing-wise within one school year, I would have to purchase 1-3 of these notebooks and that would be above the budget of the one notebook I am able to buy to accomplish my goals with our usual. It's a tough call, especially because the arts
are
high priority to us.
Because of the drawback of the pace, but the well designed classical approach of drawing and art with cursive, I give this a
4.5 rating
and recommend that
samples
of this method, be scoped out before making a cursive writing decision for your student.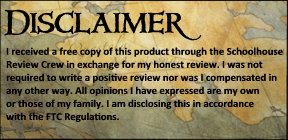 This review was made possible by:


and